Fearghal Behan – Research Associate
Fearghal joined the ADVANCE Study in January 2021 as a research associate within the Musculoskeletal Mechanics Group led by Prof Anthony Bull. He manages the musculoskeletal health data analysis for the Study. This entails the mobility/functional tests, pain scores, X-rays, DEXA scans, and some other elements to assess the impact of injury in combat on physical function.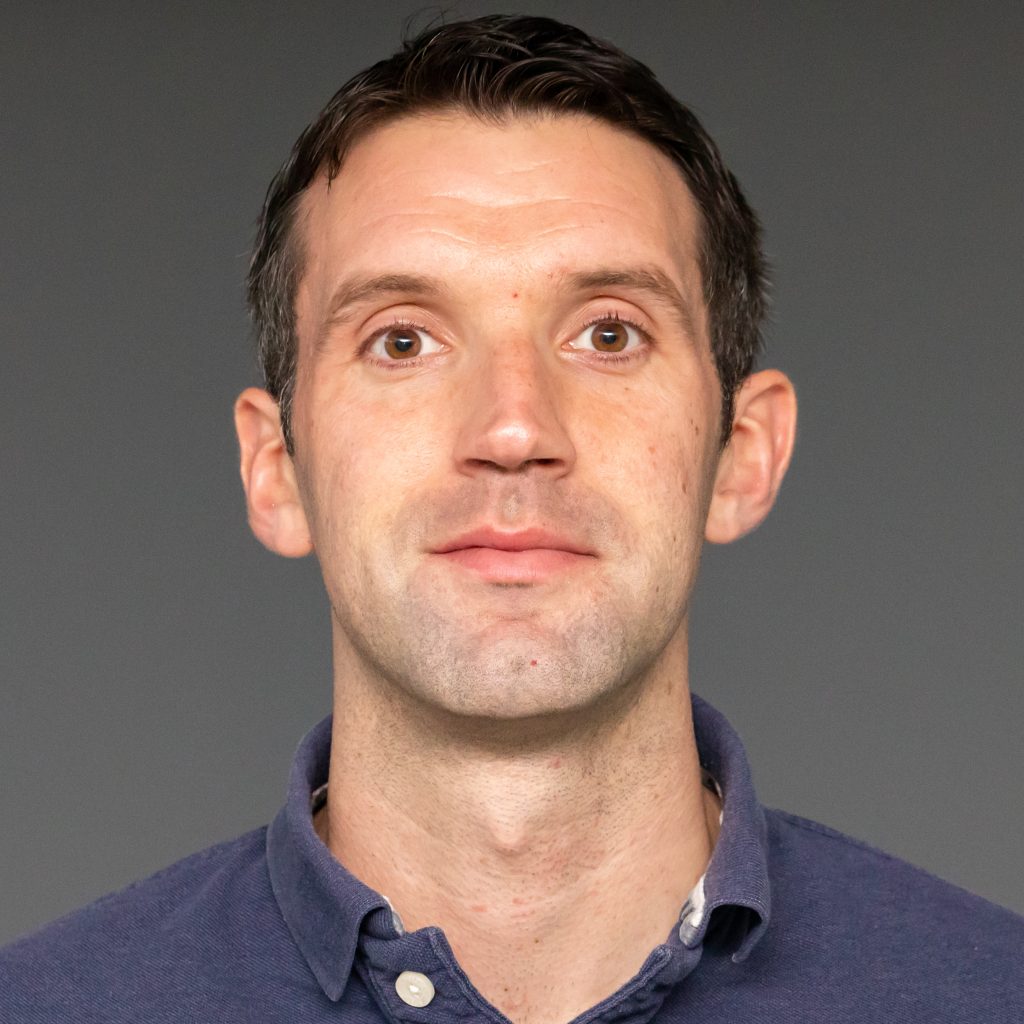 Fearghal hopes to work closely with all members of the team and is always keen to chat and learn over a cup of tea or a Guinness! Feel free to get in touch with him, whether you're a member of the research team or a study participant.
Fearghal commenced his career as a physiotherapist in Ireland following his undergraduate and master's degrees. He worked in a variety of clinical settings before specialising as a musculoskeletal physiotherapist. He practiced both in acute hospitals and in elite sports medicine settings. After many years of clinical practice, Fearghal completed a PhD in 'Neuromechanics of Explosive Performance for Movement Control and Joint Stabilisation' in Loughborough University. Thereafter, he worked as a research scientist in Aspetar Sports Medicine Hospital in Doha, Qatar.
Fearghal's previous research has focused on musculoskeletal injury and neuromuscular function, with the aims of aiding injury prevention, rehabilitation, and performance. He uses a variety of neuromuscular function, biomechanical and imaging methods (MRI, 2-dimensional ultrasound) to conduct his research. His research has won awards at numerous national and international conferences and he has been an invited symposium speaker at a number of Sports and Exercise Medicine conferences.
Daniel Dyball – Research Assistant
Daniel graduated from University of Kent with a degree in Applied Psychology in 2010. He then spent several years working in clinical mental health fields, ranging from forensic mental health to child and adolescent mental health. His research interests include military, physical and mental health interactions, and mental health stigma.
Daniel started working for King's Centre for Military Health Research in 2015, where he was involved in a study of mental health in (ex-)serving personnel and help-seeking behaviour / barriers to care. As part of this project, Daniel interviewed over 550 armed forces personnel about their mental health.
Daniel then moved on to join the ADVANCE Study team and to endeavour on a PhD in Psychological Medicine. His work on ADVANCE includes IMPACTS (Interactions between Mental and Physical health Among Combat-injured and non-injured veTerans and serving personnel Study). The study investigates how mental health affects physical health, both negatively and positively.
Howard Burdett – Research Fellow
Howard joined the ADVANCE team in February 2021. He is a research fellow investigating socioeconomic outcomes for the ADVANCE participants and how these outcomes are related to injury, support services and other factors.
Howard received his PhD in epidemiology for research on mental health and socioeconomic status of UK Armed Forces personnel transitioning to civilian life. Veterans and transition remains his primary area of interest, including mental health, and social and economic outcomes.
In his work, Howard has looked at socioeconomic trajectories from in-service to post-service life of UK military personnel, and also examined the long-term socioeconomic and wellbeing consequences of battlefield injury during Operation HERRICK and associated recuperation. His experience is in mixed-methods research research, including cross-sectional studies, longitudinal studies, randomised controlled trials, meta-analysis and data linkage.
Howard has published on the long-term mental health and socioeconomic outcomes of veterans, as well as other areas of Armed Forces wellbeing and return from deployment. He has supervised students and research assistants on a number of topics, including qualitative interview studies of deployment-related moral injury as a result of deployment experiences, and veterans' experiences of transition to civilian life.
Angelos Manolias – PhD Student
Angelos joined the ADVANCE study in April 2022 as a PhD student at Imperial College London. His research project aims to discover metabolomic and proteomic biomarkers predictive of cardiometabolic risk in response to combat injuries in the ADVANCE cohort.
Angelos studied Molecular Biology and Genetics at the Democritus University of Thrace and got his Master's in Applied Genomics from Imperial College London. Before starting his PhD, he worked with genomics data, investigating the contribution of regulatory DNA to metabolic diseases.
Rabeea Maqsood – PhD Student
Rabeea joined the ADVANCE team in October 2021 as a PhD student based at Bournemouth University. Her ADVANCE research project focuses on the influence of serious battlefield traumatic injury on cardiovascular disease risk and heart rate variability (HRV).
Rabeea has a bachelor's degree in biotechnology from Pakistan and graduated from the University of Exeter Medical School with a master's degree in environment and human health in 2019.
Rabeea's master's dissertation explored the prevalence of depression and examined its association with vigorous physical activity in police officers and staff in England. The paper on this research was published in the Journal of Community Safety and Wellbeing.